Words by David Hughes
Cargo drones capable of transporting heavy payloads are entering flight test and some experts expect them to start operational service before air taxis carry passengers in urban areas.
"We think the market for this sort of unmanned aircraft delivering cargo is going to happen before the urban portion with passengers," says Mike Blades, an aerospace analyst with Frost and Sullivan who is focused on the drone market. 
Several cargo drones capable of carrying hundreds or thousands of kilograms are in flight test, as well as a Cessna Caravan aircraft equipped with an autonomous flight system.
The flight testing and certification of purpose-built drones that won't carry passengers is simpler because of the removal of a number of requirements, such as seating and fire-resistant interiors. Passenger-carrying air taxis also have to provide a comfortable ride. The laws of physics dictate that designers can't get something for nothing – if they want the air vehicle to be less reactive to turbulence and provide a better ride, they have to sacrifice another advantage. It's ther efore easier to design a cargo drone, because cargo doesn't care about the comfort of a ride.
The clean sheet approach
Companies developing cargo drones include Sabrewing, Volansi, Bell, EHang, Elroy Air, Astral Air (Flyox) and Drone Delivery Canada. Boeing's project is on hold. Some are developing new drones from scratch and others are automating existing general aviation aircraft. Several plan to certify the new air vehicles or automation system under the new FAA Part 23 rules for general aviation aircraft to try to smooth the path to certification.
"The more an unmanned aircraft is like a manned aircraft in size and capability – the more you look like a Part 23 aircraft – the easier it is to certify," says
Andy Thurling, chief technology officer for New York state based NUAIR, which operates one of seven FAA approved Unmanned Aircraft System (UAS) test sites in the USA. As a test pilot, Thurling led UAS testing for the US Air Force and at NUAIR he has tested a variety of drones for clients.  
A challenge with UAS testing is the larger amounts of data obtained compared to manned aircraft flight testing. An effective plan is required to analyze it. "You can have so much data you can miss the important stuff," Thurling says.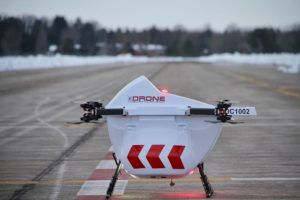 Ed De Reyes is the CEO and co-founder of Silicon Valley based Sabrewing, which is developing a clean-sheet heavy lift cargo drone. De Reyes began developing the idea for the drone while he was running a charter service last decade and often hauling cargo in challenging conditions for the maximum amount of flying time . Sabrewing was launched in 2016 to create a specialized drone that could be flown autonomously in challenging conditions and remote regions. 
The company's Rhaegal-B drone is intended is to be a multi-use aircraft that can carry 4,500kg (10,000 lbs) either from a short takeoff run of 300ft or using vertical takeoff and landing and a range of 1,000 nautical miles (1,850km) depending on load. It uses four electric motor ducted-fans that can tilt to thrust downward for vertical flight and be faced forwards for cruise. As well as longer journeys the drone, which uses Jet-A, is designed to fly shorter trips for package delivery companies without frequent refueling. The aircraft features folding wings, fold-up nose, full pallet-sized cargo access and can carry two LD-1 standard airline cargo containers or three smaller LD-2s. 
Rhaegal-B has a customized landing zone clearance system with LIDAR, radar, Iris Automation cameras and artificial intelligence. A Garmin weather radar modified to perform a collision avoidance role is being installed capable of detecting objects at a distance. The aircraft's LIDAR is capable of seeing power lines, while it also features ADS-B, a terrain avoidance and warning system and a traffic alert and collision avoidance system. The remote pilot on the ground will supervise the auto flight system and operate the drone using a remote keyboard rather than flying the air vehicle with a throttle and a stick. If communications are lost the drone will act autonomously to complete the flight plan as filed while avoiding conflicts with other aircraft. 
Sabrewing has an order for 50 cargo drones from one customer and in April won a US$3.25 million under the US Air Force's Agility Prime program, which is supporting companies developing electric vertical takeoff and landing (eVTOL) air vehicles for civil and military applications. The company is currently meeting with military flight readiness and safety review boards to begin a flight test program with its half-size prototype and then a production model drone at Edwards Air Force Base. Tests begin this year that will run for 12 months with in-kind support from the US Air Force as part of Agility Prime. The FAA will observe all of these flight tests. 
De Reyes says the test drone is instrumented the same way a manned aircraft would be with strain and pressure gages. None of the testing related to having humans aboard an aircraft will be required. Lighting strike and hazards of electromagnetic radiation to fuel (HERF) testing will be required to make sure a strike will not bring the drone down. The company plans to certify Rhaegal-B under Part 23 and fly it under Part 135 and Part 91. The aircraft will be able to fly an approach to a runway to 200ft of altitude in low visibility then slowly move over the runway numbers to descend vertically and land with no forward speed. De Reyes expects the aircraft to be able to takeoff or land with zero ceiling and zero visibility. 
Once tests conclude at Edwards, Sabrewing will move the drone to St Paul Island, 770 miles (1,239km) west of Anchorage, Alaska, in the Bering Sea for cold weather and low visibility testing.  
The retrofit approach
Meanwhile, another California-based startup is developing an autonomous flight system that includes detect and avoid (D&A) capability and can be fitted to manned general aviation aircraft to convert them into remotely piloted air cargo vehicles.
Xwing has already completed 40 hours of flight testing with a Cessna 208B Grand Caravan with a pilot, flight test engineer and two Xwing engineering analysts onboard. Having a pilot onboard greatly reduces the engineering manpower needed on the ground to support the flight test program. Data is gathered on the aircraft and by telemetry, with a complete download completed after landing and loaded into the cloud for easy access to the information.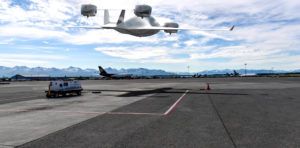 Xwing plans to begin commercial Part 135 cargo flight operations soon with the pilot-flown Caravans. The aircraft will fly a commercial cargo service, so engineers can collect data from an auto-flight system not connected to the aircraft's flight control system. This real-world data will be used to develop the autonomous systems faster. The flights will also give the FAA a rich data set to help determine how to certify autonomous systems for previously manned aircraft. 
The auto flight system is designed to allow the aircraft to takeoff, navigate and land autonomously while an onboard D&A system identifies airborne and ground-based hazards. The Caravans will fly like any other aircraft following visual or instrument flight rules. The auto-flight system is not being designed for exclusive use on the Caravan and can be applied to other aircraft. Xwing is applying with the Caravan for Part 23 certification as a general aviation aircraft under amendment 64 for innovative features not previously type certificated. 
"We are replacing the brain and eyes of the pilot," says Maxime Gariel, Xwing's chief technology officer. Xwing plans to remove the pilot from Caravan cockpits within two to three years. 
Gariel said the pilots on Caravan type cargo aircraft that service package delivery outfits on feeder routes spend most of their day waiting at an outlying airport for cargo to arrive. Xwing plans in the future to have one remote pilot flying one Caravan to an airport on the East Coast early in the morning, then shifting to fly one in the Midwest, and later in the day one in the Western United States. The remote pilots will use high level keyboard control of the cargo aircraft from one Xwing control center in the U.S. "Eventually remote piloting will just be a supervisory role," Gariel said. 
The Xwing multi-sensor D&A system has also been installed on a Bell APT 70 eVTOL cargo drone which has a 70 lbs (32kg) payload capacity. As part of a NASA program, the drone completed a beyond visual line of sight (BVLOS) flight demonstration this year in controlled airspace in Texas.
Operational testing
In Canada, six-year old company Drone Delivery Canada (DDC) is already flying cargo in autonomous drones with approval from national regulator Transport Canada. The company provides a turnkey logistics service to customers and owns the drones and infrastructure, including a 24/7 operations control center in Toronto. The company has a half dozen customers so far and has been earning revenue for more than six months. The drones mostly fly a fixed route from depot-to-depot. A depot usually consists of a warehouse or office location. The drone lands in an enclosure with access control, security cameras and a weather station that is called a DroneSpot. Other larger drones now in flight test will use the same scheme, but the companies drones can also drop supplies at homes or in an open field for an emergency delivery.
The company operates a Sparrow eVTOL that can carry up to 10 lbs (4.5kg) of cargo a maximum distance 18 miles (30km) and. A Robin XL eVTOL drone is currently being flight tested that can carry a maximum of 25 lbs (11.3kg) of cargo up to 37 miles (60km). A Condor gasoline-powered helicopter, which is 22ft (6.7m) long by 5ft (1.5m) wide, capable of transporting 396 lbs (180kg) of cargo up to 186 miles (300km) at 75mph (120km/h) is also being flight tested at an unmanned test center in Alberta that includes airspace up to about 18,000ft (5,500m) over an area of about 1,800km2. "We bought a shell airframe and a motor for the helicopter and all of the electronics and software are developed by us," CEO of DDC, Michael Zahra says.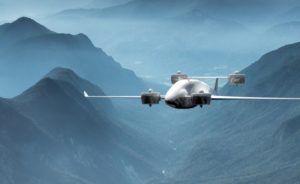 The patented Flyte flight management system the aircraft are using is agnostic and could be used on other manned or unmanned aircraft. D&A capability for the Toronto based depot-to-depot operations is provided by ground-based radar systems. Flyte runs all the systems on the helicopter and the smaller drones. It also monitors air traffic, weather and other sensor data that is displayed in an operations control center as well as being a logistics system that tracks packages including monitoring their temperatures. 
The company has already tested the Condor's flight stability, fuel consumption and the triple redundant autopilot, navigation, communications systems. The drone communicates via satellite, cellular and 900MHz RF. DDC plans for all testing to be completed by the end of this year with Transport Canada approving Condor for commercial use. 
Zahra says his company, unlike small package delivery services being developed by other companies such as Amazon and Wing, can carry medium and heavy cargo medium and long distances. The company had two business cases before the pandemic hit: moving time sensitive cargo and moving cargo to remote regions. Now it has added a third business case, contactless delivery. It has set up a depot on an island in Lake Huron for a native tribe that has decided to self isolate. 
Drone Delivery Canada just signed its first international agreement with a startup company in Keyna to explore cargo business opportunities there.