G.R.A.S. Sound & Vibration

G.R.A.S. Sound & Vibration is located in Denmark and founded by the Danish acoustics pioneer, Gunnar Rasmussen, who for more than 60 years has contributed to the world of sound and vibration with his unique ideas and designs.
Since the establishment in 1994, GRAS has been 100% dedicated to developing and manufacturing high-quality measurement microphones and related acoustic equipment. We work with everybody with an interest in sound or noise within the fields of aerospace, automotive, audiology, consumer electronics, noise monitoring, building acoustics and telecommunications.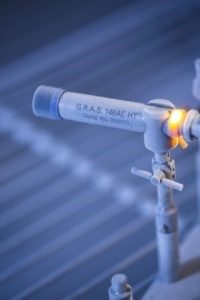 The rugged microphone from GRAS, 146AE – is the world's only measurement microphone set that is shock resistant, waterproof, dust and oil mist resistant and able to withstand high temperatures – all without compromising measurement quality.
The 146AE is designed specifically for the demands of aerospace testing and can perform accurately and durably under extreme test conditions time and time again. This minimizes costly re-testing and rescheduling, providing efficiency, valid data and high performance all at the same.
GRAS has focused on ensuring that the 146AE performs in real-life conditions such as strong vibrations, drop, extreme temperatures and water or dust.
Built for extreme conditions:
Shock and drop resistant – limited downtime and higher efficiency
Water, oil and dust-proof (IP67 Rated) – withstands rain, high humidity and oil mist
Dust, water and high-speed particle protected with a replaceable grid – change the filter not the microphone
Can be used at high temperatures (125°C) – ideal for engine compartment measurements, transmissions, exhaust and brake noise tests
PowerOn Indicator – efficient control of your measurement set-up
Online data – ensure valid data with access to electronic calibration data for your system software
Repairable diaphragm – low cost on repairs
Precise data every time
Frequency range and dynamic range as you know it from IEC compatible ½" measurement microphones:
3.15Hz – 20kHz, 18dB(A) – 138dB, 50mV/Pa
5 year warranty